Proteus Professional SP3 is an important software in electrical engineering for designing circuits. I have read different articles regarding the problem but didn't find any satisfactory answer so I have decided to write a precise and accurate solution.
Proteus Professional SP3
Proteus Professional 8.13 is the simplest and most advanced software for designing circuits. In which you will have to search for components and can place them in the workspace and have to connect these with wires.
This software is mostly used for designing and testing circuits. It has different measuring devices like oscilloscope, voltmeter. Ammeter etc. Also using this software you can model microcontrollers, microprocessors, etc
Features
Circuit designing and testing.
includes all the components for circuit designing
More than 800 different microcontrollers
Complete set for designing PCB
Different Simulations
Save cost and time for testing circuit
System Requirements
Operating System: Microsoft® Windows® 2000 with Service Pack 4, or Windows XP with Service Pack 1 or 2
Memory (RAM): 2 GB of RAM required
Hard Disk Space: 3 GB of hard disk space for program installation.
How to get back Virtual Terminal in Proteus?
How to check earthing with multimeter?
No Libraries Found (Proteus Error)
Many of you have faced this problem that after installing Proteus it gives the error "No Libraries Found". Follow these simple steps to tackle this problem.
Move to the Lab Center Electronic folder which will be in C Drive and then Program Files.
Now open the LAB Center Electronic, right-click on Proteus 8 Professional, and open properties
Now click on Security, Edit and Add and mark full control then apply and ok
It will take some time for adding files.
Now one last step, move to the desktop and right-click on Proteus, and click on properties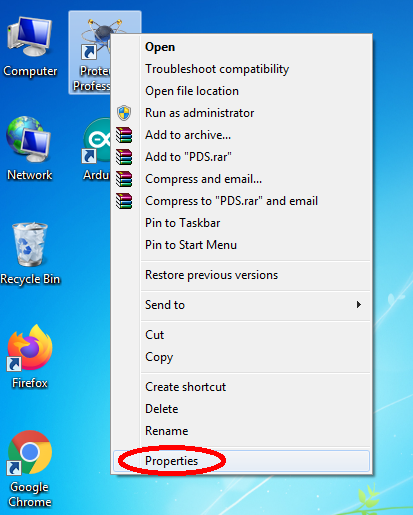 Now click on Compatibility and mark the changes below
Your Proteus Professional 8.10 SP3 is ready to use and your problem has been solved.
After reading this article "How to Fix Proteus 8.10 "No Libraries Found!" Error" you will be able to fix this problem. We have tried to cover each aspect of the library's error and will look for more and try to add those in the next update. How does this software work for you? Let us know in the comments section below.