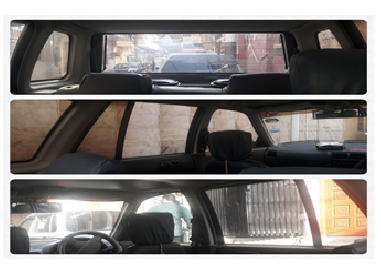 360-degree Live View Car Surveillance System is the need of 21st century because vehicle safety is one of the thoughtful subjects. In this project, we Implemented a smart security system in cars with live view camera surveillance and mobile phone alert base system the system could be implemented in any kind of Personal use vehicle.
Working And Explanation
The proposed structure is to design an efficient vehicle security system with movement detection specifications, collaborative communication, immediate camera monitoring, fast response, and cloud storage. This system will thus reduce the threat of interruption by enhancing the security system installed in vehicles by sending notifications to android devices and providing 360-angle live video streaming will provide parked vehicle surveillance.
Components used:
ARDUINO
GSM
Raspberry PI 3 Model B+
SW- 420 Vibration sensor
12V Power Supply
Oscilloscope
Software:
There are also six sensors installed in the vehicle as SI, SII, SIII, SIV, SV, and SVI are associated in different pieces of the vehicle and three Raspberry Pi cameras are introduced as C1, associated in the left column, C2, associated in the right column and C3 associated in front. Raspberry Pi connected to the SI, SII, SIII, SIV, SV, and SVI sensors and continually checks their reaction when a movement is identified. It will send a notice to the proprietor who can see his vehicle's live video spilling. More if the proprietor feels a risk, he can contact his vehicle's present location in real-time to and law enforcement authorities. Besides GSM In a vehicle, a web dongle is utilized for communication with the proprietor over the web.
Vibration sensors are integrated with Arduino and GSM module and an SMS alert is being transferred to a user for checking sensor Response. Also, the Mobile Application will get a warning alarm from Raspberry Pi and the owner can check the live camera stream, thus the principal topic of configuration is that we have a Surveillance security framework in a vehicle by utilizing Raspberry Pi 3 Model B+, Cameras, Sensors, and a web dongle for communication with the android phone having highlights, for example, alert, live camera observation, simple access, caution to specialists and relatives.
Application Access Security
 A third-party Android application is used to receive messages and broadcast them to devices running clients, Pushover, uses a simple, versioned REST API. To simplify the system of user identification and the use of traditional API HTTP train stations in almost every language, or even from the command line, it is possible to use them without any personalized modules or additional dependencies required.
Database Security
Register your app, set its title and submit an icon, and fetch an API token (often linked to APP TOKEN in our examples of information and code).
POST an HTTPS request with the following parameters to
https://api.pushover.net/1/message.json
Token (required)-the API tokens for your application
Users  (required)-user / group key of your user, visible when logged into dashboard (required in code)
Message-Your message (required)
Some optional parameters may be included:
Device-the device name of your user to send a message specifically to the device instead of all the devices of the user (various systems can be isolated by a comma)
Title-the title of your message, otherwise the name of your app will be used
URL-an additional URL to display your message
Sound-name of one of the device client-supported sounds to invoke the user's default choice of sound
Timestamp-Unix timestamp of the date and time of your message to be displayed to the user, not the time your signal is obtained through our API
That's it. Make sure that application is friendly to our API servers.
Application Registration
To continue to push notifications from your app, plugin, web service, server, or anything else, you will need to first sign up it (a free method) to get an API token. You will be capable of setting its name when signing up an app, which will be used as a standard message title, as well as publish an icon that will appear on device clients with each notification. Example App API Token: azGDOeffs3K8gMaC0Qdekvu3ENGCG8vU. Application tokens are scenario-sensitive, 30 characters, which can include the [ A-Z, a-z, 0-9] alphabetic characters. This token must be included in all API calls made on behalf of your application.

Hardwrae and Results (360-degree Live View Car Surveillance System)