Buck-Boost Inverter for Solar Based Standalone System consist of series connection of buck-boost converter, which operates only in buck mode and processes a fraction of the power input from the inverter while operating at high efficiency.
Working And Explanation
Solar PV systems operating in standalone mode provide power to domestic loads in locations where in grid is not available. Due to variability in solar radiations, standalone systems require the service of a battery bank to act as storage thereby compensating for the variations in power generated from the solar array.
Buck- boost converter is operated in both buck mode and boost mode. The output of this Buck boost converter is connected to full bridge inverter .The gate pulses to the inverter is provided by the unipolar SPWM technique. The boost converter is used for MPPT tracking algorithm with Perturb and observe (P & O) algorithm is used for MPPT. The bidirectional DC-DC converter provides bidirectional power flow between battery and the circuit. The control structure of the overall stand-alone scheme is obtained and is presented through detailed simulation studies.
The circuit Parameters are as follow
| | |
| --- | --- |
| Parameters | Ratings |
| Inductor(Lpv) | 88e-6H |
| Capacitor(Cdc) | 1.38e-6 F |
| Switching device | MOSFET |
| Switching frequency | 1000khz |
| Battery | 36V |
| Inductor(Lb) | 1e-4H |
Circuit Parameters
| | |
| --- | --- |
| Parameters of buck boost | Ratings |
| Output voltage(Vc) | 240 V |
| Capacitor © | 53.6e-6 F |
| Inductor (L) | 10e-3 H |
| Lf | 2e-3 H |
| Cf | 5.06e-9 |
Parameters of buck boost
Simulation
Results
We will divide our simulation into two sub sections and will discuss results.
Boost converter with bidirectional dc-dc converter
Here we have used a boost converter along with bidirectional dc-dc converter.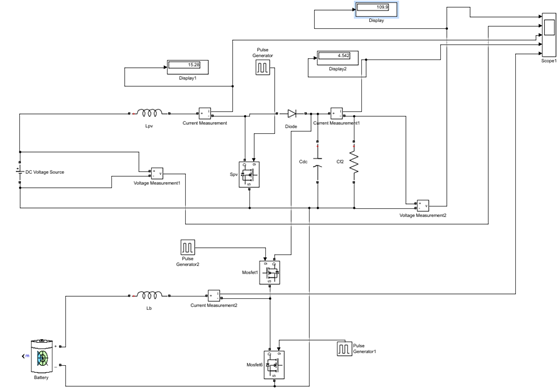 Buck Boost Integrated Full Bridge Inverter
In this section, first, we will get output from buck boost, which is dc voltage, then we will place inverter after dc converter then we will get AC voltage on output of our simulation.