Introduction:
Solar Water Irrigation System is a cost-effective and automated solar water pumping system for irrigation. In this project, we have used a Soil moisture sensor to detects the humidity, soil moisture level, and water level sensor to observes the water level. This data is sent to the microcontroller unit. Based on the collected information, the microcontroller decides either to start or to stop the pump motor. Also, the user can operate the system far from the field by a simple click on a cell phone.  A manual ON/OFF system is also introduced into the proposed design.
Working of smart irrigation system:
Solar Water Pumping System for Irrigation uses solar power to pump water from a bore well to a tank. The outlet valve of the tank is automatically regulated using Arduino UNO, GSM, and moisture sensors to control the flow rate of water from the tank to the irrigation field which optimizes the use of water.
The Arduino compares the data that came from the sensors with a predetermined threshold value. The Arduino connected to the Android smartphone by wireless via the HC-05 module. The received data in the Android smartphone is displayed on the user interface (UI). The UI provides easy remote control of irrigation for the user involve switching ON and OFF.
you may like to read Transmission Line Inspection Robot
Components Used:
Following are the components used in the Solar Powered auto irrigation system using Arduino
Arduino Uno
GSM sim900a
LCD 16×2
TLP122
Solar water pump
Solar Panel
Ultrasonic sensors
5v power supply
12v battery
Soil moisture sensors
Hardware Implementation:
Results: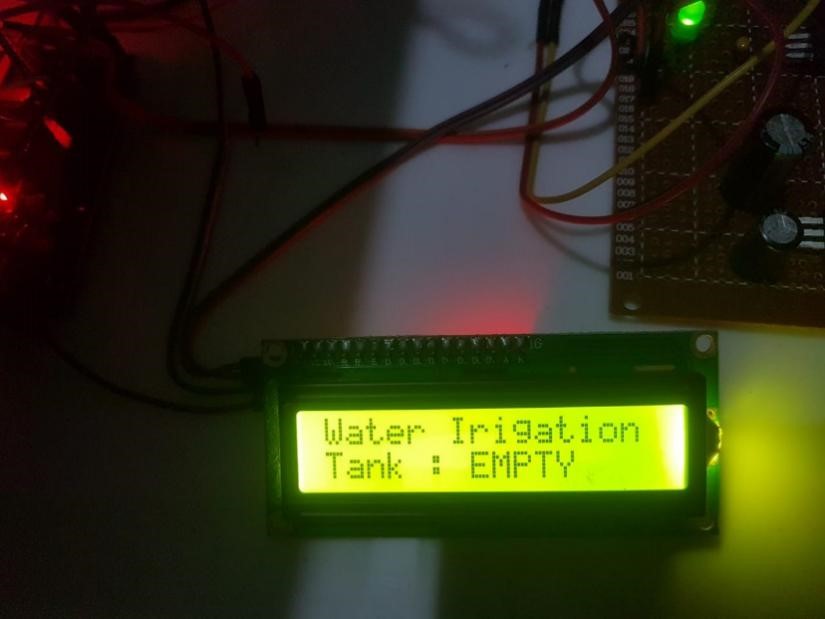 Application Of smart irrigation system
A smart irrigation system can avoid wastage of water.
Renewable source of energy.
Water supply for villages in the developing world.
Pond water management and water safety.
The system can ON/OFF the water pump automatically.
The user can be notified of their water usage LCD display.