Introduction:
Throttle Based Electric Bicycle Controller will control the speed of the motor with the throttle, basically, the throttle's signal is analog in nature when the throttle is varied the current flows through it. The voltage level is measured by Arduino and based on that the PWM signal is sent to the ESC which drives the motor. The RPMs of the motor will be measured and displayed on the LCD, along with temperature and battery health.
Working explanation:
In the Throttle-based Electric bicycle controller design, we have Arduino UNO our main controller. The temperature sensor is used to measure the temperature of the system. The current and voltage divider circuit is used to measure the current and voltage of the system. We have used a motor driver IC to run the motor in the circuit. The controller of the motor driver IC has four input pins and 2 enable pins if you want to use them then you have to enable them first. We are using three-phase so we will take three pins as our input pin. This IC will work on a certain voltage that will vary from 6 to 36 volt. You can use 6 MOSFET at the place of IC. In the simulation of bicycle design having throttle, we are using a motor driver circuit IC but in hardware, we will use MOSFET. Because there will be losses in the IC of the controller.
Components used:
Following Components are used in our electric bicycle with throttle.
Arduino
16*2 LCD
Connecting wires
Bldc Motor
Throttle
Temperature sensor
Current sensor
Voltage divider circuit
Motor driver IC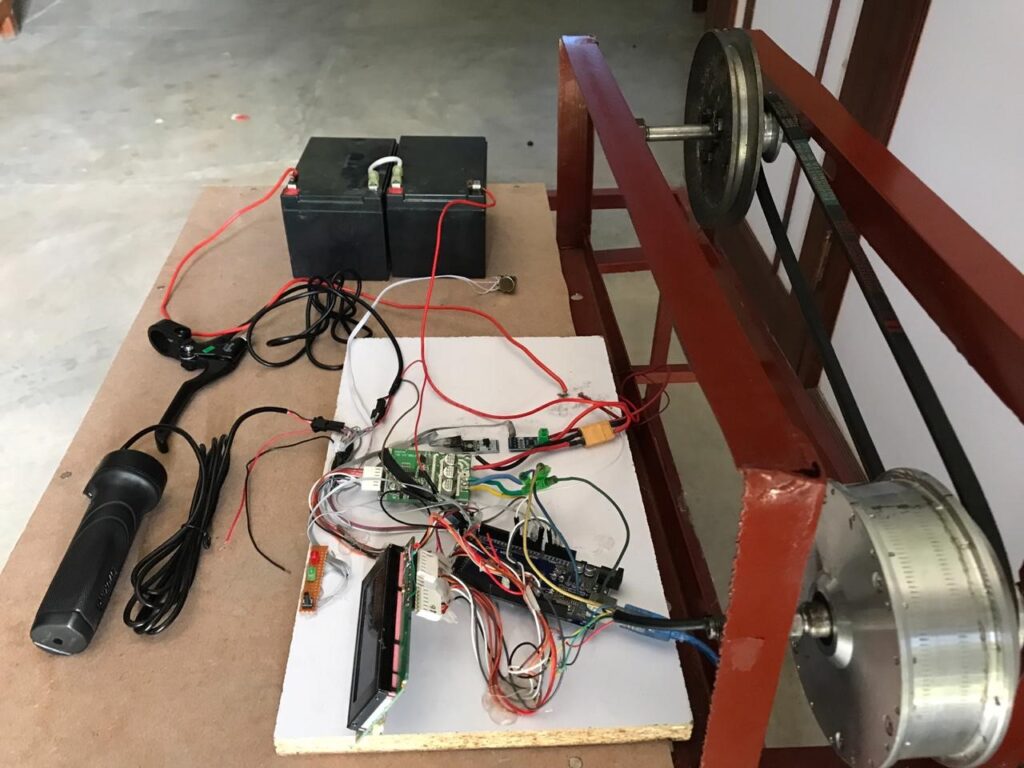 We have used an oscilloscope for the waveform. From their result, we have noticed that the magnitude of PWM from Arduino was not enough to run this motor of the bicycle. After using the Motor driver IC magnitude of PWM was enough to run the motor in the circuit. As we have two scenarios where one is with using a hall sensor and the other is without using a hall sensor. The results of the bicycle controller are given below
Circuit Diagram:
The circuit diagrams of the bicycle controller are given below
Scenario 1 (without hall senor)
Scenario 1 (Result)
Scenario 2 (with hall senor using a motor driver
Scenario 2 (Result)
Fig 3: When throttle of bicycle is 75%